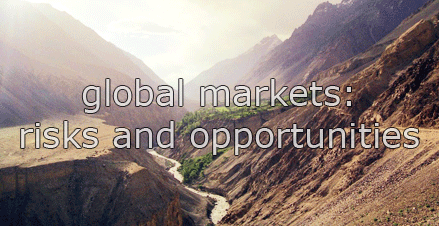 | | |
| --- | --- |
| | Source: Central Intelligence Agency, USA |
Global markets represent great opportunities to brand owners if 'best practice', adopted to local market situation, is the chosen way of managing brands. However, each expansion into new geographic areas also comes with increased risk, not just political or general investment risks. If Brand Value captures a significant part of market capitalization, then managing Brand Risks should be a focus area of top management.
The described risks arise inside a company as well as from competitors. Typical risks are (i) needlessly changing brand communication, (ii) 'reinventing the wheel', i.e. developing brand communication that is available already in better form by another of the company's country offices and (iii) brand piracy. Other risks arise when acquiring foreign companies without understanding legal environments.
Strategically cultivating Global Brand Value
Global companies, by expanding across borders should systematically grow Global Brand Value. By doing so, they will aim to replicate 'Brand Value per 1000 frequent consumers' from one region to the other.
Localization of brand names
Some governments request producers of global brands to register and use local brand names, i.e. names in the local language. Some manufactures do voluntarily. While there is some concern on the negative impact on the Brand Balance Sheet, localization has some advantages too. We will discuss in a position paper here in January 2011.

Global Market Challenges
In general, global markets are viewed as offering large opportunities to brand owners. There are risks though, too. In short: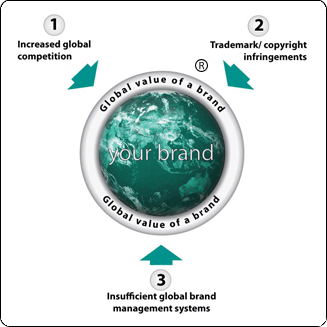 | | |
| --- | --- |
| | Increased global competiton: the globalization of markets has led to immense competitive pressure. |
| | |
| --- | --- |
| | Brand owners are exposed to risks including higher perceived value of competitors' products, shrinking retail margins, etc. Companies need to monitor competitors' Brand Propoerties closely to idenify potential threats to their business. |
| | |
| --- | --- |
| | Trademark/ copyright infringements: the opening of markets and free access to information |
| | |
| --- | --- |
| | spurs the copying of ideas, designs and brands. Therefore, brand icons need to be protected and defended. Otherwise, Brand Value might be affected. |
| | |
| --- | --- |
| | Weak global management systems: the more complex an organization is, the greater the risk that |
| | |
| --- | --- |
| | a brand's perception and thus Brand Value detoriates. Companies can only nurture Brand Value most effectively, if Best Practice is applied globally, unless very strong (financial) reasons exist that point to the opposite. Therefore, systems must be put in place that monitor Brand Value performance worldwide. |
| | |
| --- | --- |
| | Brand facts, by country or region |