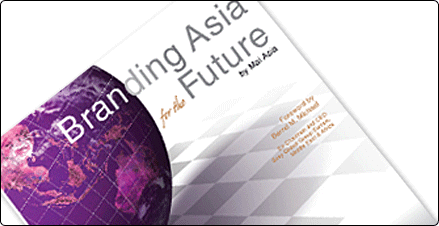 "Branding Asia for the Future"
This small book contains seven case studies of how organizations and companies, small and large, develop their brands in China, Laos, Vietnam and Cambodia. Written for the practitioner, the book highlights how companies use local resources to come up with strategies and ideas that make a difference domestically and in export markets.
Learn about Mai Asia's capabilities
The case studies focus on the strategic and creative parts of brand development, i.e.how brand icons and Brand Value are created. This service, predominantly offered under the Mai Minds brands in some emerging markets, is a basis for value management.
Foreword by ex-Chairman and CEO Grey Global Group Europe, Middle East and Africa. Mai Asia and Grey or its holding group WPP (London) are not related. Download foreword here
Published in April 2009
ISBN: 388053101-3
"Branding Asia for the Future"




Written for the practicioner, interested in branding in South East Asian emerging markets.
Five Simple Rules




General rules for branding in Asian emerging markets.
The Death of Frequency




by Kevin Lenard. On the changing media landscape and its effects on TV audiences.
Introduction into Seafood Marketing




A basic marketing introduction for fishery and seafood processors in emerging markets. Available in English plus shipping and Vietnamese. US$ 20.00 per copy, per language, plus shipping.
| | |
| --- | --- |
| | Note: we do not ship into countries that are not signatories to the International Copyright Convention. |
Need Adobe Reader?