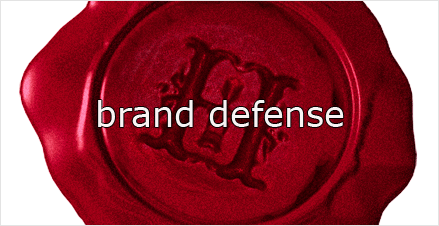 Brands are developed to create or exploit opportunities. But they also create risks. Some of these have a sudden and severe impact, such as a major accident. Others might be lingering for a long while before management acts, for example counterfeiting in a seemingly not so impart geographic region. A thorough and strategic approach to these mathers, particularly

before

any damaging event, will help maintaining the strength of the brand.
Protect the brand ahead of damage
Many companies only protect logo and name, whereas the true strength of a brand is built by more than these elements. Sounds, visuals, text elements and patents all play a role in brand protection.
Setting up entry barriers
Protected brand icons can become legal entry barriers that hardly can be circumvented by competitors. Of course, as time passes by and consumer perception changes, some protected icons become oblivious.
Use protection consequently to build competitive advantage
If the protection of brand icons is communicated and organized well in a company, Brand Value can be created across the globe. A central knowledge database, accessible to key deciders across the organization, is of great advantage.
Successfully defending a brand
Brands might get damaged by competitors or other market players. In case of lawsuits the scope of damage can play a role: It is important to be able to quantify the financial damage. Mai Asia assists in this process.
Out of six main service areas, brand defense is concerned with defending Brand Value in legal disputes or claiming compensation for damages.
| | |
| --- | --- |
| SPECIFIC SERVICES PROVIDED | |
| | |
| --- | --- |
| | Development of protectable brand icons |
| | |
| --- | --- |
| | Assessment of existing or potential brand damages |