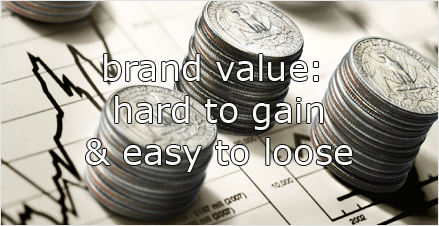 A lawsuit, an environmental accident or a competitive action can be sufficient to trigger a sudden loss in Brand Value. Companies need to prepare for that, not only by putting in place measures of crisis preparedness, but also by nurturing and measuring Brang Value consistently.
Determining Brand Value
Mai Asia measures and nurtures Brand Value and determines which methods are most suitable for Brand Valuation. We advise top management and investors on how to build, measure and protect Brand Value and - together with lawyers - define strategies for claiming losses.
Systematic Brand Value management in going-concern
There are two major approaches to managing financial Brand Value: top-down from a grand market capitalization point-of-view and bottom-up, from an activity-driven point-of-view. Both have advantages and disadvantages. The visual below relates to a typical question relating to the bottom-up approach.
Which visual is more valuable?




Out of the two visuals above: which one is more valuable to the corporation and thus the shareholders: the one left showing the breaking chocolate oor the one at the right with the chocolate splash? - This is a typical question out of many which companies face in a bottom-up approach, used often for companies in going-concern or prior to IPO's.
Mai Asia assists financially healthy firms to stay strong and maintain brands that will add financial value in the long-term.
| | |
| --- | --- |
| SPECIFIC SERVICES PROVIDED | |
| | |
| --- | --- |
| | Definition of global brand properties |
| | |
| --- | --- |
| | Performance analysis of brand cues |
| | |
| --- | --- |
| | Protection and defense strategies |
Too little too late
Firms that are not well prepared for crisis often also recognize the onset of a crisis too late. As a result, too little is done in the first place. As the crisis becomes obvious harsh budget cuts are needed, leaving little leeway to rebuild the brand afterwards. -It is better to be prepared for crises at all times and keep cost in check, including those for marketing.