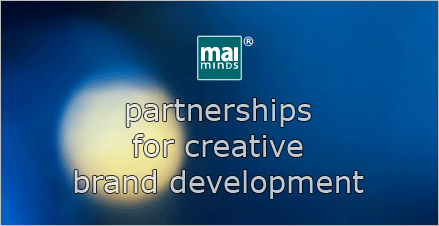 Mai Minds Brand Development
To serve the growing needs of our clients in developing brand value, Mai Asia has split off the creative part of business and launched the Mai Minds brand. Since 2009, creative brand development services are bundled under the Mai Minds brand, a network of talents and firms with very specific creative skills. This allows the 'mother brand' Mai Asia to focus on brand value management, an area that not only involves marketing, but also includes financial and legal aspects.
Emerging markets pose high risks to Brand Value as (i) unneccessary price cuts, (ii) counterfeiting and(iii) non-adherence to global best practices are all too common issues.
| | |
| --- | --- |
| SPECIFIC SERVICES PROVIDED | |
| | |
| --- | --- |
| | Regional benchmarking of Brand Value performance |
| | |
| --- | --- |
| | Competitive analysis in emerging markets |
Brand Development Partnerships

Being active in Asia since 15 years, we have formed and nurtured numerous partnerships in the region. While not tied to any of the large agency groups, our network includes some of the best talent in various creative skills. Clients utilize this network for various purposes:

Branding advisory in Pre-IPO cases or special
situations

| | |
| --- | --- |
| | Provision of creative directions |

Outsourcing from Europe or USA, particularly of
multilingual packaging design
Branding Leadership


for clients in 13 countries
Tapping into talent across Central, South and South East Asia, we are able to serve clients in 13 countries. We are not set up country-by-country, but by competence areas. This allows clients, even as for away as Europe, to get state-of-the-Art branding consultancy and creative work.
Independence
The Mai Minds network consists of likeminded individuals and firms in Asia who know each other and collaborate since long. It is independent of large agency networks and driven by the aim to provide specific brand development tasks, not large campaigns. Its fundamental purpose is to support our clients' aim to create valuable brands.